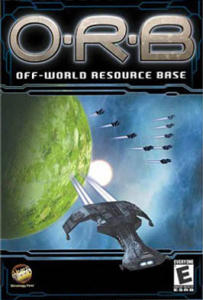 O.R.B.: Off-World Resource Base (C) Strategy First

DATE : November 7th, 2002
PROTECTION : None
SIZE : 1 CD
GAME TYPE : Strategy
CD1 : 46 x 15MB (ims-orb.001)
IMAGE FORMAT : BIN/CUE

REQUIREMENTS : 600 MHz, 128 RAM, 3d Video Card, 500 MB HDD


[ RELEASE NOTES ]

O.R.B. is a visually stunning 3D real time strategy game that pits
the forces of two planets against each other in an epic struggle for
control of the vast asteroid belt that circles their planets. Within
the concentric rings of the belt are the precious resources that both
planets desperately need to thrive.


FEATURES:

* Experience unparalleled 3D real-time strategic gaming action with
full freedom of movement in space.

* Enter the fray as one of two fully developed races with unique
campaigns and strategies.

* Immerse yourself in O-R-B's one-of-a-kind dynamic environment - a
living solar system with planets and a vast asteroid field where
danger and opportunity lurks.

* Shape the world and the fate of your race by building secret bases
inside them.

* Engage in epic fleet combat with a wide variety of vessels and
specialized units including: Orbital Shock Troops. Mine layers,
Fighters, Jamming Units, Probes and Massive Capital Ships.

* Enjoy a unique downloadable campaign editor and tools, complete with
the ability to script your own cut-scenes.

* Launch explosive battles with up to eight players in cooperative
and head-to-head multiplayer mode.


Unrar, Burn, Install, Play... Enjoy!