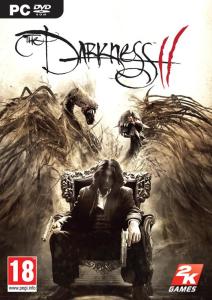 Darkness II Limited Edition Lossless Repack - R.G.Origami

Release Date: February 10, 2012
Genre: Action, Horror
Developer: Digital Extremes
The foreign publisher: 2K Games
Russian publisher: 1C-SoftKlab

Publication Type: Repak
Language: English, Russian
Tablet: enclosing (SKIDROW)


SYSTEM REQUIREMENTS:

Γ╦å┼í Operating System: Windows XP/Vista/7;
Γ╦å┼í Processor: Intel Core 2 @ 2GHz / AMD Athlon 64 X2 4200 +;
Γ╦å┼í Memory: 1 GB;
Γ╦å┼í Video: GeForce 9800 GTX c 512 MB;
Γ╦å┼í free hard disk space : 7.1 GB


DESCRIPTION:

Continued abuse of the shooter hitman Jackie Estacado, which creates its own affairs under the protection (or rather, cursing) otherworldly darkness. Since that time, Jackie has grown to a mafia boss's office and got into a full-scale
war between gangsters - so that his "dark" abilities will be where carousing. Studio Digital Extremes is going to give up a realistic picture of the game and apply the technology sat-shading that simulates two-dimensional drawing.


GAME FEATURES:

- Cooperative Company for 4 persons - Play as one of four unique characters,
each of which is able to control weapons, endowed with the power of Darkness.
- Quadra-house - hack, grab and throw objects and enemies, demonic hands, simultaneously firing two weapons, oschutitite new and exciting opportunities
in the FPS genre
- Unlimited strength - improve and use the Power of Darkness to an even more dynamic gameplay
- an unforgettable adventure - feel zahvatavyvaschy scenario of Darkness,
written by Paul Jenkins, to whom we owe such projects as The Incredible Hulk, Wolverine, and the original game Darkness
- A stunning graphic style - Shadows in the style of colorful comic book illustration and color, combined with dramatic lighting in the film noir style, enliven the pages of comics ...

Features repack:

Do not cut / no recoded
Install time ~ 8 min

To choose english , Step 2 of installer -




ENJOY!