Partition Magic 8.0

Size: 29.8 MB
Homepage: http://www.symantec.com/home_homeoffice/products/overview.jsp?pcid=sp&pvid=pm80

How to install: Run the setup file and insert the included serialkey ...


Partition Magic allows you to create, resize and merge partitions on your hard drive without destroying data. Partition Magic helps organize and protect your data, run multiple operating systems, convert file system types and fix partition table errors.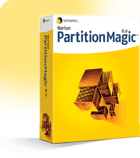 Features:

· Organize and protect the information on a hard drive
· Easy, step-by-step wizards help with performing partitioning tasks
· Preview the effects of partitioning a hard drive before implementing anything
· Safely manage multiple operating systems
· Partition hard drives as large as 80 GB
· Access and partition external USB drives
· Undelete a deleted partition from rescue disks
· Remotely copy, move, delete, and create partitions across a TCP/IP connection
· Create and run scripts to automate common partitioning tasks
· Shred partitions to ensure the security of corporate data on retiring hard disks
· Convert from one file system or partition type to another without losing data
· Supports FAT, FAT32, NTFS, and Linux ext2/Swap file systems
· Support for Windows XP

System Requirements:

OS Support: Windows 98/Me/NT/2000/XP

Windows® XP Home Edition/Professional
233MHz or higher processor
128 MB of RAM

Windows 2000 Professional
150MHz or higher processor
64 MB of RAM

Windows NT WS/Me/98/98SE150
MHz or higher processor
32 MB of RAM

REQUIRED FOR ALL INSTALLATIONS:
55 MB of available hard disk space
DVD or CD-ROM drive



Download ... Share ... and ... Enjoy!